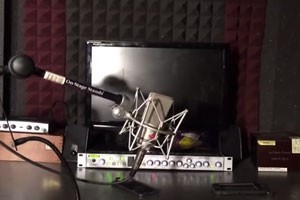 I wanted to give everyone a behind the scenes look at my WhisperRoom.  However, in order to do that…I had to clean it up.  I may have had a couple guitar amps (for those nighttime jams sessions), random coffee cups (for those early morning VO sessions) and some Pop Tart wrappers (from my kids who like to hear their voice recorded and played back to them.
I guess the apple doesn't fall too far…right?
So, after I cleaned up the clutter I started recording.  I guess I'm pretty minimalist when it comes to equipment.  A lot of VO people I know have all this great processing power, multiple mics, racks, doodads and thingamajigs.  My studio chain looks like this:
Neumann TLM 103 –> Aphex 230 Master Voice Channel Processor
Boom!
I'd love to get more toys, but right now I'm pretty happy with my sound.  I'll add a couple mics down the line, and with those probably will come new processors, but until then I'll stick to the tried and true.  I'd rather spend my money on expanding my education of voiceover land.
It is unfortunate that the WhisperRoom doesn't come out of the box and ready to go sounding amazing. I had to add multiple bass traps in the corners to take the rumble out of the room.  George Whittam helped me tweak my processor and gave me some extra tips to sweeten the audio to make it sound great.