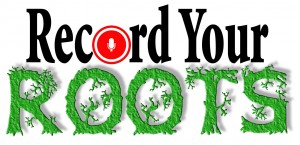 Producing Audio-Biographies About Your Business or Family History
What's An Audio-Biography?
An Audio-Biography is an audio recording that chronicles past events. It could be capturing memories from your parent or grandparent to pass down from generation to generation.  It could be a promotional tool to spread your customer base and get more people interested in your company.
An Audio-Biography is any audio you would like to keep for prosperity for business or personal use.
How Does It Work?
I'll help you narrow down some topics in order to cater to your specific needs.  We'll plan out exactly what you want to get from this experience and craft questions to do just that.
We will plan a place and time to record (on site or via skype) and we'll record the stories for your Audio-Biography.  Once we've recorded everyone involved, I'll edit into a nice flowing story that you can be proud of.
Can We Do Video?
Record Your Roots is not a video production house…but I've got many connections that are.  We can plan out a full fledged video shoot…or put together a nice picture montage overtop of the audio.  Your budget decides what we can do!
How Much Does It Cost?
It really depends on the scope of the project.  How many interviews we do, to what depth we delve into the subject all factor into the cost.  The easiest way to get a quote is to fill out the pre-interview questionnaire, send it in & I'll contact you to discuss everything!